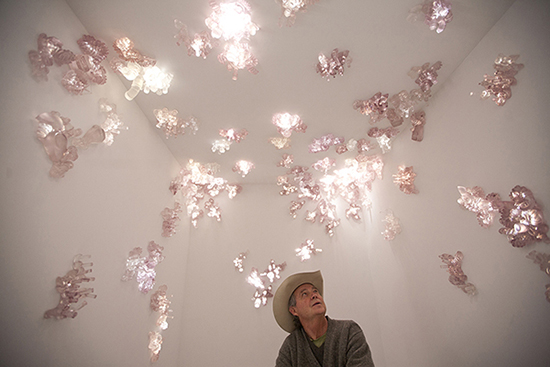 Photo by Tina Larkin
About the Naima Trailer Project
Naima
is a chamber of purple light and glass hidden inside a rusted trailer. It is large enough for 4 people to sit inside. Hundreds of handmade cast glass objects collect light from the sky. The interior changes as light shifts throughout the day, sunrise to sunset, or as clouds pass overhead.
There is no electric light in
Naima.
Naima
was exhibited at High Desert Test Sites 2013, an exhibition curated by Dave Hickey, Andrea Zittel, Libby Lumpkin, and Aurora Tang. Artists' projects were sited in the desert along the I-40 from Los Angeles, CA. to Albuquerque, NM. For High Desert Test Sites the
Naima
Trailer was sited at the center of a dry lake bed in the Mojave Desert near Joshua Tree, CA.
There is no electric light in
Naima.
Light comes from the sky via large hidden recessed skylights that span the entirety of the trailer's roof, effectively turning the trailer into a large light box. Purple glass and purple light entirely surround you, as if you had walked into a giant geode, or discovered an amethyst crystal cave.
I cast the glass myself for
Naima
in my studio in Taos, New Mexico. Because each mold is destroyed in the firing process, each of the hundreds of glass objects inside
Naima
is unique, there are no multiples.
I use glass and this labor intensive process to access light in my work. Glass catches light in extraordinary ways. It acts a strong collector and amplifier of light, allowing light collection in my work even under low light conditions like twilight.
I am inspired by the language of the physical world—light, space, color, movement. The phenomena we intercept with our bodies, eyes, and skin, and that can swiftly bypass the analytical part of our minds. The way a color elicits emotion your intellect has no part sending to your brain. How light makes our bodies feel.
In a world saturated with information, much of it speeding at us disembodied through cyberspace, I am drawn in by these slower moment to moment experiences of light, space, and color.
Naima
is built for the slow read, for watching as light shifts and unfolds over time in rhythm with the sky, its' cycles of day and night, weather, and seasons.
Debbie Long 2014